Making fine prints in your digital darkroom
Photo printers
by Norman Koren

---
updated June 2, 2005

In this page we introduce printer technologies, then we describe the Epson 2200 (my current printer), the 1280/1290, and a few others. We include troubleshooting tips. The page ends with a discussion of the number of pixels required for high quality prints. Related pages:
.
Ye news
May, 2005. Epson has revamped its line of Ultrachrome printers with a new series that takes the 8-color Ultrachrome K3 ink set. The new models include the R2400 (13 inches wide; $850 USD), 4800 (17 inches wide; $2,000 USD), 7800 (24 inches wide; about $3,000 USD), and 9800 (44 inches wide; about $5,000 USD). Useful links:
February, 2005. Epson has released the 17-inch wide R1800 printer with the gloss optimizer for printing on glossy (RC) surfaces. It is not a replacement for the 2200 (see above). It produces excellent results on glossy paper ($530 USD).

February, 2004. Epson has released a new set of ICC profiles for the 2200 printer. The profiles are for 1440 and 2880 dpi for Premium Luster, Semigloss, Glossy, Enhanced Matte, Watercolor - Radiant White, Velvet Fine Art, and PremierArt™ Water-Resistant Canvas. I haven't had a chance to evaluate them. Finding them can be a little tricky because you can't link directly to Epson pages, and as of February 2004 they're not yet on Epson USA's Drivers & Downloads page for the 2200. To locate them you must click on Announcements (in the left column), then click on New ICC Profiles for Epson Stylus Photo 2200. They obvouisly won't be there forever; I'll update this page when they move.

I have a problem with the workflow in their How to use ICC profiles document. In Step 7 for Windows, it recommends selecting Assign working RGB: Adobe RGB (1998) for documents that have no embedded ICC profile. This is generally a bad practice because the Windows default color space for images with no embedded profile is sRGB. But there are exceptions. If you convert a RAW file to Adobe RGB (1998) with Canon's (mediocre) File Viewer Utility, it won't embed a profile. Bad practice, but Epson's recommendation is appropriate in this case. Then in Step 8 it recommends assigning a different profile if the color balance appears incorrect. Very slipshod! It's best to select the correct profile when you open the file, then use other adjustments.
Introduction to inkjet printers

---
Several printer technologies are available-- laser, inkjet and dye sublimation. Inkjet printers, particularly those with six or more ink colors, lead the pack for photographic image quality. Inkjet printers fall into two categories: dye and pigment-based.
Dyes are chemicals that come dissolved, usually in water. Dye-based inks are less expensive than pigment inks and tend to have larger color gamuts, but they are less lightfast and chemically stable. Early dye-based inkjet prints faded very rapidly-- in months, but newer dye-based inks have much better lightfastness-- 25 years or more when displayed under glass. Dyes can interact chemically with coatings on papers-- you should always make sure a paper is compatible with your inks. Most dye-based inkjet prints are susceptible to rapid, unpredictable chemical fading caused by oxidation from air pollution-- the notorious red shift in Epson and Canon prints. It tends to be worst in standard glossy or semigloss papers. Swellable polymer papers such as Epson ColorLife (semigloss surface) or Ilford Galerie Classic (gloss and pearl surfaces) last much longer. The definitive source on print longevity is Wilhelm Imaging Research.
Pigments are tiny particles that come suspended in the solvent-- they aren't dissolved. Pigment inks tend to be more expensive than dye inks, but they are much more lightfast and chemically stable. Lifetimes are estimated at 80 to 200 or more years. Early pigment inks had poorer color gamuts than dye inks (in part because pigments tend to be more opaque than dyes), but recent pigment inks are competitive. Early pigment inks also tended to clog printer nozzles, but newer pigment inks are much improved (though far from perfect). Epson is currently the only supplier of a wide range of pigment-based inkjet printers, but several independent ink manufacturers supply pigment inks. Because pure pigment inks have a difficult time achieving high Dmax (deep blacks), dyes are often added to pigmented inksets. Fortunately, black dyes tend to be more stable than colored dyes. Epson has a page of Print permanence results from Wilhelm Imaging Research with longevity results for pigmented inks on different papers. (If this link doesn't work, go to Epson North America, click on Paper & Media, Matt Paper Heavyweight, Print Permanence Ratings. It has some surprises. Watercolor paper (Radiant White), which isn't 100% cotton, is one of the longest-lived.
Epson dominates the market for photo quality printers, but Canon and Hewlett-Packard offer serious competition. The inks in the older Epsons weren't lightfast, but that changed in 2000 with the introduction of the Stylus Photo 870 and 1270, which print 8½ and 13 inches wide, respectively. And things continue to improve.

Standard print sizes
more on Inkjetart.com

Metric

A4: 210x297 mm ( 8.3x11.7 in)
A3: 297x420 mm (11.7x16.5 in)
A2: 420x594 mm (16.5x23.4 in)
A1: 594x841 mm (23.4x33.1 in)
(All have a 1:1.414 aspect ratio.)

US

A (letter): 8.5x11 in.
B (ledger): 11x17 in.
Super A3/B: 13x19 in.
C: 17x22 in.
D: 22x34 in.
Epson photo printers fall into three categories:
Dye-based 6-color printers (Epson 1270/1280/1290, etc.): Colors are C, Y, M, K, light C, and light M. Brilliant colors; 10-25 year display life depending on paper, but some fading (red-shift) problems caused by air pollution. Low cost. Popular. I used the 1270 between March 2000 and September 2002.
Early pigment-based 6-color printers (Epson 2000P, 5500, 10000, etc.): Less color gamut than dyes. 100-200+ year life using "polymer-encapsulated pigments." Slower and more expensive than consumer dye-based printers. Acceptable to galleries and museums. Largely supplanted by the "Ultrachrome" printers, below.
(Mostly) pigment-based 7 or 8-color "Ultrachrome" printers (Epson Stylus Photo 2100/2200, 7600, 9600, 4000, R800): The 2100/2200, introduced June-August 2002, has excellent color gamut and a 75+ year print lifetime, and it's much faster than the 2000P. These are landmark products: They promise to outperform the best silver-based color papers (Ilfochrome, Fuji Crystal archive) in every respect. The seventh color is light black (gray), which greatly improves the rendition of B&W images. Some dye has evidently been added to the pigments to improve the color gamut and Dmax (density of deepest black tones). These printers give you a choice of two black cartridges: Matte Black for matte papers and Photo Black for glossy, semigloss or luster (RC) papers. These are now the printers of choice for serious photographers. Epson and Canon dye-based printer produce excellent results at lower cost; they are excellent choices if archival print lifetime isn't a high priority. HP dye-based prints have better longevity.
I can't keep up with all of Epson's new models, especially the letter-sized/A4 printers. Here is a page from Epson UK that compares printer models (still confusing; many of the A4 models differ in minor features).

My top choice for a printer today would be one of the Epson Ultrachrome printers. In October 2002 I purchased the Epson Stylus Pro 2200 (replaced by the R2400 in mid-2005), which prints 13 inches wide. Reasons: long print life, excellent color gamut, and good B&W performance. The 17 inch wide 4000, 24 inch wide 7600, or 44 inch wide 9600 are the printers of choice for high volume work. The 13 inch wide Epson 1280/1290 and Canon S9000/i9100 printers would be my second choices: less expensive, but shorter print life (about 25 years) and not quite as good for B&W. (See news above for the 2005 replacements.)


Among 8½ inch wide printers I'd consider the Epson R800, which uses Ultrachrome inks and the Hewlett-Packard 7960, which uses 8 dye inks that last nearly as long as Epson Ultrachrome pigments. The 8 inks include black and two grays: it's reputed to be outstanding for Black & White printing. Confession: I don't keep up with smaller printers, so this is almost certainly out of date..
Epson Ultrachrome printers: Stylus Photo 2200 (2100 outside North America)

---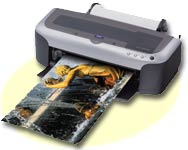 The Epson Stylus Photo 2200 (2100 outside North America; replaced in mid-2005 by the R2400), introducedAugust 2002, was the first of Epson's 7-color "Ultrachrome" printers. It has seven ink cartridges-- one for each color, which saves ink because you don't have to replace a 5-color cartridge when one ink runs out. But the 18 ml cartridges can still be expensive if you do a high volume of printing. Prints up to 13 inches wide (A3+/Super B print size). $650. Compared to the 2000P it features better color gamut, deeper blacks and faster printing, but less image permanence: 75-100 years instead of 200-- still very good. 4 picoliter droplet size. The ink set includes gray (light black) and a choice of matte or photo black (for matte (fiber-based) or RC papers, respectively). It is better suited for B&W than the 2000P, but it still has some metamerism (change in appearance under different light sources). Its roll paper holder has an automatic cutter (a big improvement over the flimsy piece of trash that passed for the 1270 roll holder). It also has a special feeding slot for thick fine art papers.

Ultrachrome printers have been a tremendous commercial success. As a result, several models are now available.
Epson 7600 and 9600 $2,995 for the 24 inch wide 7600 and $5,000 for the 44 inch wide 9600. Cheap if you're a professional who does a high volume of work. Serious competition for LightJet printers at a fraction the price. 110 or 220 ml ink cartridges are more economical than the 18 ml cartridges in the 2200. 4 picoliter droplet size. The main drawback is large amount of ink wasted when you switch between black cartridges (not a problem with the 2200 or 4000).
Epson Stylus Pro 4000 Available January 2004 for $1800. An industrial-strength (85 lbs!) A 17 inch wide printer with 8 ink cartridges. Uses 110 or 220 ml ink cartridges. Both black cartridges are installed; the appropriate one is automatically selected. 3.5 picoliter droplet size. It has generated a good bit of excitement: Read previews from Michael Reichmann | Photo-i.
Epson Stylus Pro R800 Available early 2004. The 8-color 8½ inch model features high gloss Ultrachrome inks (less "bronzing" on glossy papers?) with tiny 1.7 picolitre droplets. Both black cartridges are installed; the appropriate one is automatically selected. The cartridegs are a little different from the other Ultrachrome printers: it includes Red and Blue (!) Photo-i has a full review.
I bought a 2200 in September 2002 and gave the trusty 1270 to my son (it seems to have worn out since he got it). It does a superb job. I'll continue to add material as time goes on. Some links to the Ultrachrome printers are,
The Epson Stylus Photo 2200 Reference Guide is available online. New printer drivers (version 5.40) were released in April and May 2003. These drivers allow you to apply ICC profiles directly from the printer driver software. You should apply the profiles here or in the image editor, but not in both. Go to Epson.com and click on Drivers & Downloads. (A direct link won't work.)
Luminous-Landscape.com A thorough review and several articles with tips and workflows. A must-read if you're considering a 2100/2200.
Photo-i (UK) Highly detailed review. Also a must-read. I don't intend to repeat everything in these two comprehensive sites.
Steve's Digicams Stylus Photo 2200 review. Another good one.
www.digital4to.com has some interesting information about ink cartridges and refilling them. I haven't dared to try it. It also has some particularly fine links. I'll wait to see if anyone develops a Continuous Inking System (CIS).
Robert Zembowicz discusses Windows XP installation problems, profiles, and has some excellent links.
Red River Paper supplies papers for the 2200. ICC profiles are now available. My initial impressions are very positive-- see comments below.
Lexjet A Florida company that offers nice prices on Epson ink cartridges and some intriguing media, especially their 10 mil Photo Luster and Melinex high gloss media, recommended by Scott Bourne. Both are compatible with the 2200.
Stephen Livick (an artist/photographer/mystic living in London) is conducting a series of tests on inkjet longevity on Epson Ultrachrome and other printers. Somewhat disorganized, but interesting to navigate.
Alain Briot has an excellent 9600 diary. The 9600 is a very different beast from the 2200 (it prints up to 44 inches wide for starters), but it uses the same inks.
Peter Nelson has written some interesting articles about inkjet printing, particularly B&W printing on the Epson 2200, where he did a high resolution scan of the dots at (R,G,B) = (242,242,242) to illustrate metamerism-related issues.
Here are some observations about the 2200.
Papers - I use Epson papers for most of my work. My favorites are Premium Luster and Enhanced Matte, both of which have outstanding print quality-- deep blacks and large color gamut. Other Epson papers, including Premium Glossy and Semigloss (similar to luster), are equally fine. I'm interested in Velvet because its base is 100% cotton; it's longer-lasting than Enhanced Matte (which used to be called "Archival Matte," but isn't, although it has a very respectable lifetime). Inkjetart.com has a valuable list of media recommendations. Wilhelm Imagng Research has tested the longevity of Ultrachrome inks on a variety of media (using the 9600). I list papers, primarily from independent manufacturers, in Papers and inks.
Papers from independent manufacturers - Because pigment-based inks are much more chemically stable than dye-based inks, the 2200 can be used on a wider range of papers than dye-based printers (though it's not compatible with all papers). I look for papers that have ICC profiles. Red River Paper caught my eye because they have profiles, sheets of the ideal size for panoramic prints (13x38 inches), and Epson 2200/pigment sample kits. My initial impression of 76 lb. Premium Matte is extremely positive. Colors and tones are comparable to Epson Enhanced Matte, but it's much heavier. Unlike Enhanced Matte, it doesn't tend to ripple when ink is applied (though Enhanced Matte tends to flatten when it dries). It handles very well-- thinner papers tend to damage (kink) more easily. This is the matte paper of choice for panoramic images-- and maybe for all my large images. Prices are reasonable. Although Premium Matte is not 100% cotton or acid-free, Henry Wilhelm's tests indicate good longevity: over 55 years unprotected; 80-100 years under glass. Red River's 76 lb. LuxArt is 100% cotton, and (no surprise) it's much more expensive. The Papers and inks page contains a table of inkjet papers.
Two black inks - Photo Black (the default) for glossy and semi-gloss papers and Matte Black. Matte black gives much richer blacks on matte papers such as the excellent Enhanced (Archival) Matte. If you've worked in a traditional darkroom you'll be surprised by the deep black tones-- better than any matte photographic paper-- and colors are rich. Switching between the two black cartridges in the 2200 uses a small amount of ink. But switching cartridges in the 7600/9600 printers wastes a large amount of ink-- an advantage for the 2200. (Knowing this helps with my 7600 envy problem; I'd still love one.) The new 8-ink 4000 has eight cartridges-- both black inks are permanently installed, so there is never a problem changing inks.
Ink reflectivity - This may disturb some people. The inks (except for yellow) are shinier than the Luster and Semigloss surfaces. This leads to an effect called "bronzing," which is only noticeable when you look at specular reflections-- something you normally avoid when viewing a print. But it can look strange. Reflections in white and yellow areas look dull compared to other inked surfaces; sometimes you can see an almost negative-like effect. I'm about to mount my first 2200 Luster prints behind glass, where this effect should be less noticeable. It's less bothersome with the Glossy surface, where there is a slight embossing-- small ridges near boundaries. It's not a problem at all with Matte surfaces. I rank this problem as a mild annoyance-- not a show stopper. People who are fussy about surfaces may be more bothered.
Ink usage - In my early experience, Light Magenta ink was used up the fastest, followed by Light Black, followed by the other light colors: Light Cyan and Magenta. Darker colors-- Black (both types), Cyan and Magenta seem to last longer. Overall ink costs are likely to be slightly lower than the 1270 because you don't have to replace the entire color cartridge when one color goes dry.
Water resistant - The new inks seem to be highly resistant to water damage, which was always a concern with the 1270/1280/1290, particularly with ColorLife paper.
ICC Profiles - A set of ICC profiles is hidden in the Epson 2200 Installation CD in TITLES\PIM\color. They're not mentioned in "Printer Basics" manual; a friend found them by accident. Epson' printer profiles can also be found on Ian Lyons' site, (apparently the same profiles as the installation disk). In the profile names, PK denotes Photo Black (primarily for glossy papers) and MK denotes Matte Black ink (matte papers only). The Archival Matte MK and Watercolor-RW MK profiles worked so well (No Color Adjustment, 1440 dpi) that I haven't bothered to make custom profiles. Epson Australia also has some profiles. (Why not US, UK?). George Lepp had a set of custom profiles, created on $7,000 worth of equipment (X-Rite AutoScan Spectrophotometer with the MonacoPROOF software; not your average flatbed scanner) that he had to withdraw due to licensing restrictions. (Imagine if Bill Gates controlled everything you created with Word.) To learn more about using profiles, see my series on Color management.
Black & White workflows - I've put up a B&W workflow on my page on B&W printing. An alternative workflow is based on the Gray Balancer provided with the Epson 2100 outside North America. The Gray Balancer can be downloaded from Epson France (choose STYLUS PHOTO 2100). An English tutorial can be found on a page in photo-i, along with an English patch for the program. Remember, this is unsupported in North America. The instructions Several workflows are discussed in Luminous-Landscape.com's excellent pages on the Epson 2200. For highest B&W quality, ImagePrint RIP is widely recommended. Digital Outback Photo's Epson 2200 Diary reports excellent results. Michael Reichmann's article on Imageprint 5.5 is a good general introduction to RIPs.
Roll holder - Difficult to install following instructions in the printed manual. For better instructions, load the Printer Movies and Manual from the 2200 installation disk and bookmark it. Only the small tabs on the roll holders were inserted in the back of the 2200, a little lower than I initially tried. When you insert the paper, make sure it's snug against the right guide. You'll definitely want to use the paper cutter along with the roll holder. Paper handling is nightmarish otherwise.
Ink runs low during a large print - This can happen, for example, with long (12.5x34 inch) panoramas. No problem. Depending on what the Status Monitor window shows, either press Pause, change the cartridge, then press Resume, or press How to... and follow instructions. Don't press Stop. Printing resumes seamlessly.

Clogging - can be a problem with the 2200 and R2400, even though they're greatly improved over earlier Epson models. It's a good idea to run the nozzle check before making high quality prints. That way you won't waste a sheet of expensive paper. Run one or two cleaning cycles if needed. Unfortunately it uses all ink colors, even if only one is clogged. I've installed a humidifier near my R2400, which clogged several times in its first three months.
Epson Stylus Photo 1280 ( 1290 outside North America)

---
The Epson Stylus Photo 1280 ( 1290 outside North America) About $380. Uses the dye-based same inks and papers as the 1270 but prints up to 2880 dpi. Its principal advantage is that it can make borderless prints. Color rendition may be slightly improved. From all accounts, actual sharpness at 2880 dpi is barely distinguishable from 1440 dpi, and print speeds are much slower. Here Ron Harris's comment about B&W, "With the 1280 you only get 2880 dpi if you use Epson Premium Glossy. For matte paper it's 1440 dpi. I have made some prints at 2880 dpi using black ink only. The results are not up to the standard of fine art photography." I've established a workflow to get good B&W results with the 1270/1280/1290. But the 2200 is the printer of choice for serious B&W. You can learn more from Inkjetart.com, particularly Inkjet News & Tips, February 20, 2001, and from reviews by Michael Reichmann and Ian Lyons.

Epson Stylus Photo 1270 (replaced by the 1280/1290 February 2001) 1440 dpi. Prints up to 13 inches wide using relatively lightfast dye-based inks, rated by Wilhelm Research at 10 years on Premium Glossy paper and 25 years on Matte Heavyweight. The prints are beautiful! Color gamut is excellent. All surfaces reproduce deep rich black tones. I used a 1270 between early 2000 and September 2002, when I got the 2200.

Available papers for the 1270/1280/1290 Papers not on this list may have longevity problems due to chemical interaction with the dyes. My printer settings are on the Printer calibration page. Epson also recommends Premium Glossy or Semigloss for the 1280, but I don't; I removed them from the list below because of their susceptibility to red shift fading.
Matte Heavyweight - The real surprise. Photographic (silver emulsion) matte papers can't reproduce deep black tones, but this surface succeeds beautifully. I like almost everything about it-- I'd perfer it to be a little heavier. Epson's most colorfast paper-- 25 years estimated lifetime. Epson Archival Matte paper, which is slightly heavier, is not recommended for dye-based inks.
ColorLife - A semigloss paper, introduced in late 2001, using a "swellable polymer" technology designed to combat "red shift" (cyan dye fading). Requires special handling for protection against moisture. Excellent lightfastness (comparable to Matte Heavyweight) but poor water resistance (Epson's other papers are surprisingly good). ICC profiles (different for the 1270 and 1280/1290) are available from Epson's support website, but my settings work well for me. I love this paper-- it's beautiful! Inkjetart.com offers Ilford Galerie "Classic" papers, which have similar swellable polymer technology, in two surfaces: pearl and glossy.
"Red shift" fading in dye-based printers (Epson 1270/1280/1290, Canon S9000 etc.)
---

A few months after the 1270 was introduced, people started noticing that Premium Glossy prints would occasionally and unpredictably turn orange or red due to fading of the cyan dye. This turned out to be a big embarrassment for Epson. I saw the "red shift" once. I accidentally left a Luster print in my bright skylit living room where it received direct afternoon sun, and it faded severely in just one week-- with frightening rapidity for such a short period. I did a few tests-- it was something in the air, not sunlight or summer heat. A Luster print in a shady part in the same room faded at the same rate, but the same print in my cool dry basement didn't fade at all. None of the Matte Heavyweight prints faded.

"Red shift" is caused by oxidation of the cyan dye. The culprit was originally thought to be ozone (O3 )-- a particularly potent form of oxygen, but it's now recognized that plain oxygen (O2 ) in combination with still unknown atmospheric contaminants which act as catalysts can cause the fading. Not nice! My Luster paper turned out to be an old batch. Anti-oxidants were added to Premium Gloss, Premium Semigloss, and Premium Luster starting in 2001. (See the Inkjetart.com article.) This improves things, but doesn't fix the problem entirely-- fading can start when the anti-oxidant is depleted. And display life is only rated at 10 years. Framing the print under glass eliminates the problem. Polypropylene sleves offer some protection. Check out Bob Meyer's site for more detail on this problem.

As a result, the only papers I can recommend for the 1270/1280/1290 are Matte Heavyweight and swellable polymer papers, such as ColorLife, which has a lovely semigloss surface and a claimed longevity of 25 years. Canon dye-based printers suffer from the same problem.
Epson printer troubleshooting and maintenance tips
---

If your prints don't look right,the first thing to do is to run the nozzle check check. If any of the six colors fail the test, run the Head Cleaning cycle. The test doesn't take much time or ink, and you can use scratch paper. You access it through the Utility tab in the printer Properties window.
1270/1280/1290 Ink formulation has been changed from the original. Ron Harris no longer likes B&W with Matte Heavyweight paper. Here is Epson's documentation.
Troubleshooting Tip #0302 Ink Color Variance in Stylus Photo 870/875/1270 (from Epson, undated. 2001?)
We are aware that some of our customers use special color matching techniques to precisely calibrate the color performance of Epson Stylus Photo printers. We are alerting such customers of a change in manufacturers of dye components used in the color ink that results in a very slight change in the output from Epson Stylus Photo 870, 875, and 1270 printers. This slight change would not be descernible with printers less capable of continuous tone printing, and most users of Epson Stylus Photo printers will also not notice any changes in color performance.

Photographers who are particularly discerning, however, may notice that colors such as blue are very slightly more vivid and gray tones are very slightly cooler. This change affects T008201 and T009201 cartridges. The affected cartridges have lot numbers that begin with the letter "A".
Eliminating "Rail Drag" Here is a valuable tip from Inkjetart.com's Inkjet NEWS & Tips - 10 Dec 01. It seemed to fix my communication error problem (below) for a while. I strongly recommend subscribing to this newsletter.
Is your inkjet printer starting to make awful sounds and/or making a mess of the files sent to it? It could be that your print heads are suffering from "rail drag". This is one of the most common repair problems we hear of (often costing a minimum of $50 if your printer is out of warranty, or at the least several days of down time even if it is under warranty).

The most common culprit is "rail drag" due to a dirty and/or dried out print head rail. If you're experiencing problems, try cleaning the rail (the chrome bar) that the print heads glide back and forth on -- before you go to the repair shop. Use WD-40 or a light sewing machine oil (some use gun oil) and wipe off the excess. (Yes, a repair shop has no problems with charging you $50 just for doing this simple procedure!) Do this with a clean cotton cloth about every three months, or monthly if your printer is under heavy use. Whenever the printer motor experiences any extra friction or resistance from the print head assembly it will "fail-safe" and stop, or go to a default position so as not to force the issue and damage the motor or the print head drive assembly. The cleaning of the printer head rail eliminates most of these problems.
Printer stops part way through a print with "communication error."After about a year my 1270 would intermittently stop part way through a print and give me a "communication error" message. Flaky! This problem drove me crazy. I reinstalled the drivers from the USA and UK sites, rearranged the IRQ's, reinstalled Windows 98, etc., to no avail. Cleaning the rails (above) seemed to help for a while. I changed the motherboard, installed Windows XP Pro, removed the USB hub and made sure there was sufficient disk space on the C drive for a scratch file-- at least five times the image file size for 1440 dpi printing. But the problem persisted.

I heard that the only surefire solution is to switch from USB to a parallel printer connection-- slower on my old computer with Windows 98. Perhaps not so slow on my new computer with Windows XP.

I bought a USB 2.0 PCI card to accomodate my Epson 2450 scanner. It uses different drivers from standard USB 1.1 cards. The USB 2.0 card fixed the problem.

Here is a solution from Rich Hureau of Hampton, NH.
I recently purchased an Epson 1280 and soon started to get the "communication error." But I found a simple soution, based on experience with my older Epson 900. For years the Remaining ink display would periodically be grayed out, but it would print OK. This didn't affect the printer performance at all, and would go away after rebooting (although I could also just ignore it).

When the 1280 started giving me these pesky "communication" errors, I wondered if it was related. So I looked in the printer driver settings. In the Utility tab, there is a button labelled "Speed and Progress". If you click it, another dialog pops up with a button labelled "Monitoring Preferences." Click this, and another dialog appears, with several checkboxes. One says: "Communication Error," with a On/Off setting. By default, the Epson 900 has a setting OFF on this checkbox. But the 1280 has a default ON. So, I set it to OFF, and it seems to have solved the problem. The Remaining ink display occasionally turns gray, and when it does, the Status Monitor shows a Communication Error, but the printer keeps on printing.
That box is still there-- and still equally hidden-- in the R2400. Fortunately it is OFF by default.

Windows XP printing errors? Most errors can be fixed by installing Service Pack 1, which includes the latest USB 2.0 drivers.You will need to update the drivers for the USB host controllers. Robert Zembowicz (and Microsoft) have some valuable advice on doing this. Before I installed it the print spooler often failed to clear completed print jobs. Here's what I did. (1) Close the print spooler (spoolsv.exe). The quickest way is to open the Task Manager (Ctrl-Alt-Del) and end the spoolsv.exe process. (2) Remove old print jobs by deleting *.SHD and *.SPL files from C:\WINDOWS\system32\spool\PRINTERS. Explorer must be set to view hidden and system files. It might be a good idea to do this whenever you cancel a print job midstream. (3) Restart the print spooler. This can be done by clicking Start, Run..., and entering spoolsv.exe in the Open: box. It can also be done from the Task Manager. I made a shortcut (to C:\WINDOWS\system32\spoolsv.exe ) to speed up this process. Sometimes spoolsv.exe takes a minute or so to restart. When you check print job status in the Printers and Faxes window, you may want to click View, Refresh. It doesn't always show current status. An alternative approach to stopping/restarting the print spooler is to open the Control Panel, double-click on Administrative Tools, Services, click on Print Spooler, then stop it. Delete the *.SHD and *.SPL files, then restart it from the Services window. Before I found these fixes I always had to reboot my computer, sometimes twice, whenever it refused to print. But these fixes weren't perfect. The software sometimes failed to recognize the printer-- the ink level boxes in Printer Preferences remained clear white or grayed out.

Dale cotton has a page on printer maintenance.
Other printers

---
Epson Stylus Photo 2000P Introduced in 2000. About $900. Prints up to 13 inches wide using "polymer-encapsulated" pigment-based inks. 100-200+ year print lifetime. Less color gamut than Epson's dye-based printers, but reviewers generally find it acceptable. Prints suffer from metamerism -- a substantial color shift when viewed under different light sources. Not acceptable for Back & White. I didn't buy one because the black tones on the sample I've seen were not as deep as the 1270. Print quality may be improved by increasing the contrast in the dialog box (below) to 10 as Ron Harris suggests, or setting the mode to "Vivid" as Michael Reichmann suggests. Inkjetart.com compared of the 1270 and 2000P. For all practical purposes, the 2000P has been replaced by the 2100/2200, which is faster and has a superior color gamut, though its pigment longevity is only 75-100 years.

Canon has several 6-ink dye-based printers that compete with Epson. Like the Epson dye-based printers they suffer from the red-shift problem, which is dealt with by using matte or swellable polymer glossy papers. Photo-i has a review of the 5-ink i865, which is classified as a business printer-- fewer cartridges than the Photo printers listed below..
S9000 Wide body (up to 13x19 inch) 6-ink dye-based printer with 25 year estimated life. Very fast. Replacable (but expensive) print head. It apparently doesn't print longer than 19 inches-- so it won't do for large panoramic images. Michael Reichmann was favorably impressed. Steves-Digicams gave it a rave review. DP-now.comhas a lengthy review in which they express a few reservations. Is being replaced by the i9100, but it's still available at an attractive price.
i9100 Replacement for the S9000. Makes borderless 13x19 prints. (I prefer borders for protection against edge damage.) Steve's Digicams has a detailed review.
Hewlett-Packard dropped its 6-color photo printers in favor of 4-color office printers in 2000 but returned with a promising new line in 2002. A good thing because they have excellent technology. They claimed up to 75 year print life (excellent). I was impressed by some prints I saw, and Wilhelm's results indicated a 73 year lifetime for images printed on HP Premium Plus Photo Paper- Glossy-- far better than other dye-based prints and nearly as good as the Epson 2200. Photographers will start paying more attention to HP when they come out with a 13 inch wide model, but an insider friend told me that Epson's marketing gurus can't imagine why any consumer would want a printer wider than 8½ inches. Here are some highlights in their current line.
Photosmart 7960 8-ink printer includes two shades of gray in addition to black. Excellent for B&W printing-- superior to all other dye-based printers. Longer print life than Epson or Canon dye-based printers. Photo-i and Steve's Digicams have excellent detailed reviews.
HP Deskjet 9650 prints up to 13x19 inches. I believe it uses 6 inks-- not up to the same standard as the 7980. They don't list it among their "Photo" printers.
Black and White printing is discussed in B&W, matting and framing.
Links Recommended websites with printer news, reviews, and products

---
How many pixels do you need?

---
A printer's dpi rating (1440 or 2880 dpi for Epsons at their highest quality setting) is sometimes called its "resolution," but it is not true resolution. It is the amount the stepper motor moves between printing dots. It takes several printer dots to reproduce an image pixel. If you are using Picture Window Pro or Qimage Pro (a Photoshop post-processor), you don't need to resize an image for printing; you don't need to worry about the exact mapping between image and printer pixels. The image is resampled and sent directly to the printer. Prints are optimally sharp. You will, however, need to resize images if you send them out to a lab for LightJet printing.

Your only concern is that you have sufficient image pixels per inch on the print. The following table has some useful guidelines.

Print PPI

Perceived print quality

300

Outstanding. As sharp as most printers can print; about as sharp as the eye can see at normal viewing distances.

200

Excellent. Close to 300 PPI for small prints, 8½x11 (or A4) and smaller.
Outstanding quality in large prints, 11x17" (or A3) and larger, which tend to be viewed from greater distances.

150

OK for large prints. Adequate, but not optimum, for small prints.

100

Adequate, but not optimum, for large prints. Mediocre for small prints.
These numbers are actual pixels per inch, not necessarily the dpi or ppi "resolution" of the image file, which is actually a scaling factor. Print file size and scaling are discussed in Pixels, images, and files. Print sharpness measurements are described in Understanding image sharpness part 3: Printers and prints.
Digital Dog's 1600x2000 pixel test image looks very sharp printed at 200 pixels per inch on Letter-size paper. There is only a small improvement in going to 300 pixels per inch. If I don't plan to print larger than Letter size, I scan at 2000 dpi with the Canon FS4000US (1800 dpi with the Hewlett-Packard S20). This keeps file sizes smaller and speeds editing. If I plan to print A3 or larger I scan at maximum resolution.

| | | |
| --- | --- | --- |
| Professional graphics: another world So you invested heavily in the burgeoning Internet industry in 1995 and decided to sell your stocks when they seemed a bit high in 2000. Now your problem is what to do with all that money. I offer a solution. There's another world out there-- the world of professional graphics; of giclée printing; of huge prints and high volume industrial strength equipment. A good entry is the FLAAR websites-- verbose and opinionated, but always fascinating. I often disagree with them, particularly when they dismiss consumer grade equipment like Epson printers, which are capable of remarkable quality, but don't have the speed or ruggedness to meet professional demands. Still, a wide format giclée printer (24 inches or more) would be very nice... | | |



Images and text copyright (C) 2000-2013 by Norman Koren. Norman Koren lives in Boulder, Colorado, where he worked in developing magnetic recording technology for high capacity data storage systems until 2001. Since 2003 most of his time has been devoted to the development of

Imatest

. He has been involved with photography since 1964.