Monument Valley/Hunt's Mesa workshop
and Canyonlands trip
April 2-8, 2004
by Norman Koren

---
updated April 25, 2004
More images in Part 2
I attended Steve Kossack's F-8 and Be There Monument Valley/Hunt's Mesa Workshop from April 2-6, 2004, then spent two days in Canyonlands (Needles district). Our Navajo guide was Tom Phillips, who has worked with a number of well-known photographers. A guide is necessary for visiting the best parts of the Navajo Reservation. The publicly accessible parts of Monument Valley are definitely not the most interesting.
We got up each morning at 4AM (standard time) and we were in our cars by 4:30, rain or shine. And it rained a lot. Very unusual for the desert region, but generally welcome because the region (and indeed, the entire Western United States) has suffered from five years of drought, and also because the best light happens just after the rain. The desert wildflower bloom should be spectacular in late April-- I'm tempted to return.

Hunt's Mesa is the high point at the south end of Monument Valley. Reached by a hike (challenging in a few places if you're not a rock climber) or four-wheel drive. It's one of the most spectacular views on our planet, and a truly sacred place. Getting there requires advanced planning (not cheap). It could become a goldmine if it were developed for tourism, but the magic would be lost. We had only a few minutes of good light between the rain and fog. I'd go back in a minute. If any reader wants to plan a trip there, let me know. I'd be happy to share the costs. It's a long day's drive from Boulder (or two short days with plenty of time to stop and photograph).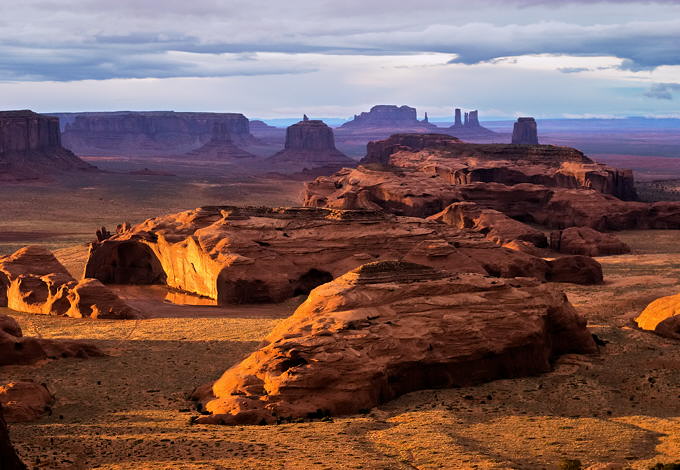 Mystery Valley contains a number of Anasazi Ruins, but the best photo spot is the vicinity of this overlook. "Tom's point." It had poured earlier in the day.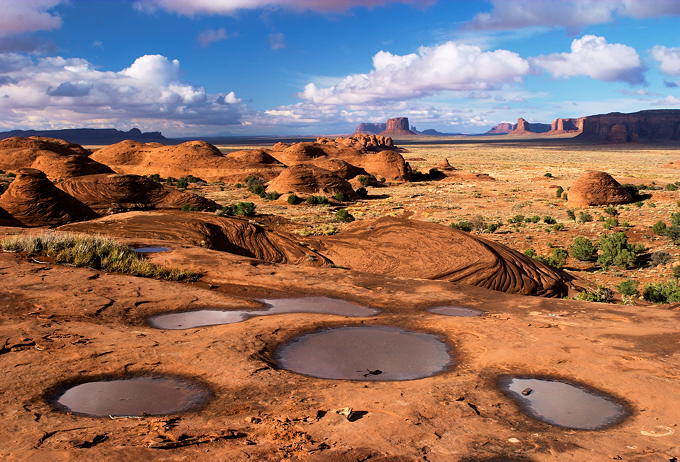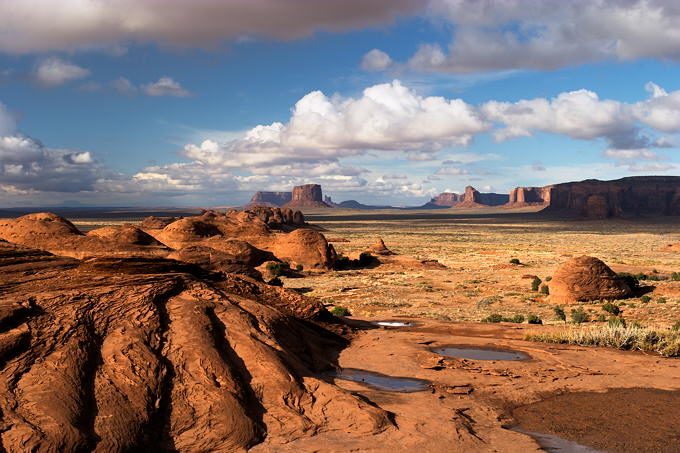 I call this scene the "Navajo Wave" because of its resemblence to "The Wave" in the Paria/Vermillion Cliffs wilderness. These sandstone formations are very fragile.

Canyonlands (Needles District) is north of Monument Valley and south of Moab, which was mobbed with tourists because its annual Jeep Safari, which takes place in early April. A good time to avoid Moab unless you're an avid four-wheeler-- motel rooms are booked months in advance. All campsites in Canyonlands were filled from the spillover-- and I didn't learn about camping on BLM land just outside the park entrance until later. I stayed in the town of Monticello, about an hour's drive from the park-- not an ideal solution.
This image was taken on the Chesler Park trail, about a mile from the Elephant Hill trailhead, during the "golden hour" before sunset.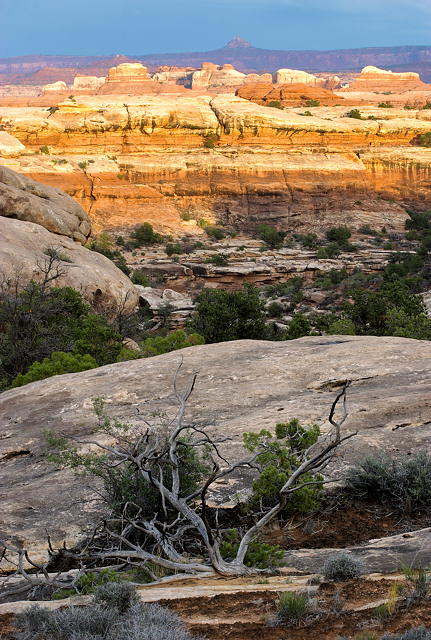 Images and text copyright (C) 2000-2013 by Norman Koren. Norman Koren lives in Boulder, Colorado, where he worked in developing magnetic recording technology for high capacity data storage systems until 2001. Since 2003 most of his time has been devoted to the development of

Imatest

. He has been involved with photography since 1964.