Visiting Boulder, Colorado
a visitor's guide to our fair city
with links to everything you wanted to know about Boulder
by Norman Koren updated Sept. 1, 2017; created May 2001

Introduction | Links | Events and cool things to do | Hiking/outdoors | Getaways | Lodging | Restaurants | Getting here

---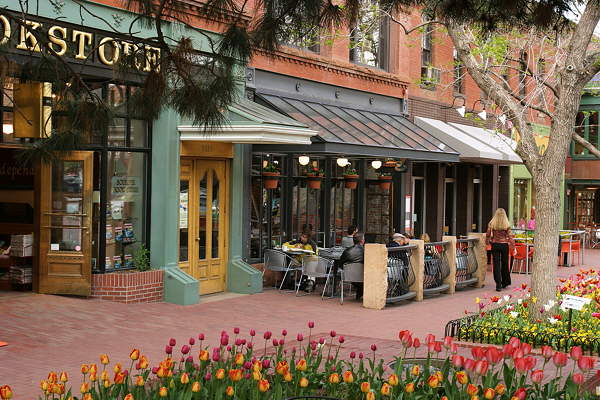 Pearl Street Mall

.
Boulder is a city of 100,000, elevation 5,400 feet (1650 meters), located thirty miles northwest of Denver. It's just under an hour's drive from Denver International Airport, known here as DIA, though its official airport code is DEN. It's also an hour's drive to Estes Park, gateway to Rocky Mountain National Park. Boulder is surrounded by a wonderful greenbelt with 120 miles of trails. The front range of the Rocky Mountains rises on the west side of town. The entire region is a paradise for hiking, cycling, rock climbing and almost every kind of outdoor activity except surfing.

Our community is a paradoxical mix of left-leaning politically-correct environmentalists, tech entrepreneurs, new-agers, and yuppies. Righteous bicyclists coexist uneasily with SUVs (though Nissan Leafs (Leaves?) are sprouting everywhere). Once known as a hippie mecca, the remaining hippies subsist on trust funds ("trustafarians"). It is home to innumerable environmental and spiritual groups (mostly new age and eastern-oriented; fundamentalist Christians are politely directed to Colorado Springs). For diversity we have Soldier of Fortune Magazine. Bumper stickers range from "Free Tibet" and "My Karma ran over your Dogma" to "Focus on your own damn family." For more, read The Gore-Tex Vortex.

We call it the "Boulder bubble". Twenty-five squre miles surrounded by reality.

Boulder is the home of the University of Colorado (known as CU to distinguish it from UC on the West coast), which occupies several square miles south of downtown, and Naropa University, a secular Buddhist-oriented school founded by Allen Ginsberg and Chogyam Trungpa Rinpoche, who also founded the Shambhala Center. It also has several government scientific institutions: NIST (National Institute of Standards and Technology; formerly National Bureau of Standards), home of the atomic clock that defines the world's time, NCAR (National Center for Atmospheric Research), in a landmark I. M. Pei-designed building on a mesa overlooking town, and NOAA (National Oceanographic and Atmospheric Administration). NCAR is open to visitors. The heart of town is the ever-lively Pearl Street Mall (shown on the right and below), which runs between 11th and 15th streets.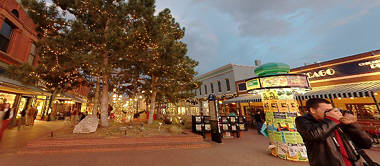 Click here or on the image on the left to view Jook Leung's amazing 360 degree panorama of Boulder, taken at the west end of the Pearl Street Mall at sunset, November 29, 2003. Jook also created amazing panoramas of lunch at BJ's, (La dolce vita, Boulder style!), Santa's helper (AKA Rosemary from Downtown Boulder) in front of the Boulder Bookstore, and chez moi. His Times Square New Years 2004 panoramas are astounding.
The weather is sunny and dry most of the time— we get as much sunshine as San Diego, but we get occasional afternoon thunderstorms in late spring and summer. At least we did before the 2000-2003 drought years. Winters are sunny and dry with occasional snow that melts quickly. (Again there are exceptions: in 2006-7 we received 108 inches (2.74 meters) of snow by February 14.) Winter daytime temperatures often reach the fifties; sixties are not uknown. Nights are frosty but rarely bitter cold. It's pleasant most of the time, but we can get sudden dramatic weather changes. Mother nature can turn into mommie dearest in moments, particularly in the mountains, but she rarely stays that way for long. Hikers should be prepared.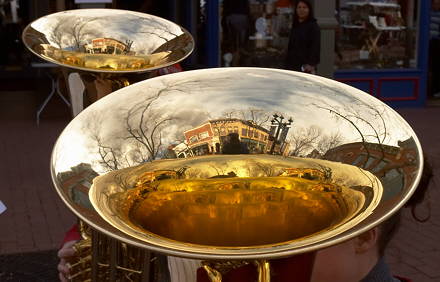 Boulder keeps cropping up on lists of best places to live, and Boulderites get pretty smug about it. These lists evidently sell magazines; Americans are always searching for the land over the rainbow where the grass grows greener. According to the Daily Camera, Boulder has been listed in the following magazines in the last four years (1999-2003; actual articles in boldface): Men's Journal

: "Is Everything Better in Boulder?"

, Runner's World, "Best running city," USA Today (2014): "America's Thinnest City"

(add about a pound for each mile you go east of Boulder), Sunset: "The West's best city" and "No. 1 green & clean city," Seventeen, "Top 10 places for teens," Outside

, "Best place to be an uberjock"

(when the article was published in May 2004 the median home price was $280,000. our former home, Encinitas, California, was runner-up), Redbook, "Top ten great cities for working mothers,"

\

Something, it seems, for everyone, as long as you can afford the rent (still much less than New York or San Francisco).


Pearl Street reflected in tubas.

2016-2017 update: Bloomberg: The Smartest Americans Are Heading West (similar article from December, 2016) | Fodor: 9 Reasons Why Boulder Is the Coolest City in America | Forbes: "Five Reasons I decided To Leave Silicon alley And Move to Boulder" | The No. 1 place to live in America if you want to be happy | National Geographic: These are the Happiest Cities in the United States And on and on. I'm still waiting for some Techstars entrepreneur to put happiness in a bottle and market it (organic, gluten and GMO-free). Actually I rather like a comment in the No. 1 place article.

"Pure BS. Boulder is notorious for arch leftist, wealthy, hypocrites. The politics of Boulder are arch leftist and, at the same time, exclusive and for the rich. A great contradiction in their thought process. Where I live we have hunting, fishing, camping, dogs, guns and ammunition, and not the GD politics of the Left." I could try telling him that most Boulderites are politically liberal, well-educated and hard-working, which creates a degree of prosperity. But I'm OK letting him keep his viewpoint-- and wait for Trump to make America great again by giving him his old job back-- far away from here.


Boulder has a thriving tech startup scene, as described in "How Boulder Became America's Startup Capital" (Inc., 2013). A few links: Boulder Startup week | Fast Company article | Daily Camera article (2013) | Brad Feld's blog (our widely-quoted venture capitalist and tech guru; just today the New York Times called him "one of Silicon Valley's most powerful investors"). It seems to me that tech startups have become a bit too trendy for young people fresh out of college-- or even college dropouts. Too many half-baked startups are pursuing the same markets. Years ago everybody wanted to start a band and become the next Beatles. Now it's start a tech business and become the next Mark Zuckerberg. I say this as an old curmudgeon who started a tech business when he turned sixty and had nothing better to do, heedless of what he'd be doing in his seventies.

It's not all startups. Google is building a campus for 1500 people on the corner of Pearl and 30th Streets. It should be easy to recruit employees, especially Google programmers who now pay fortunes to live in San Francisco cubby holes and spend an hour or more each way riding a bus-- albeit a luxury bus with WiFi. Most will be able to find places within cycling distance. The new campus has generated quite a bit of controversy. Some fear that we'll become more like San Francisco, which is losing its once-celebrated cultural diversity to ever increasing rents and gentrification. But unlike San Francisco we are building lots of new housing, which should help. I can attest to the increased rents. Our (company) lease ended in 2015, and we had to find a new space. Since our previous 2012 lease (a relative bargain), several big west coast companies bought up most of Boulder's commercial real estate and jacked up the rents-- a lot. Ouch.
http://www.boulderphil.org/
Boulder's numbered streets run north-south with numbers increasing as you travel east. Fourth street abuts the mountains north of downtown. Broadway is an important north-south thoroughfare that takes the place of twelvth street north of the university. 28th Street (Route 36) and 30th street are the other major north-south thoroughfares. Pearl Street is a major east-west thoroughfare, interrupted by the pedestrian Mall between 11th and 15th Streets. There is a series of alphabetical east-west streets on the north side (where we live) with botanical names, starting with Alpine, 1/2 mile north of Pearl, and continuing to Violet, near the northern edge of town. East-west street addresses correspond to the cross street number times 100.

Downtown parking meters operate from 9AM to 6PM Monday through Saturday, but downtown parking garages are free on Saturdays and Sundays. The parking garage on Spruce and 15th (one block north of Pearl Street) is free on weekday evenings. Read the small print on the Parking signs. No parking is allowed Friday and Saturday nights in some neighborhoods east of the Pearl Street Mall.

Drink plenty of water, especially if you've come from sea level. Thanks to Boulder's high elevation (5400 feet) and low humidity, it's easy to get dehydrated. Symptoms are headache and fatigue.
.


Boulder's environs provide endless opportunities for landscape photography. I encourage you to look at my photography pages by clicking on the logo on the right.


Boulder has an excllent public transit system. Learn more about buses, bike paths, and other options from GoBoulder. NextBus gives realtime bus locations and schedules.


Maps Maps Maps! The city of Boulder has a page with some terrific links to maps for biking, hiking, and transit. The PDF Bicycle & Pedestrian Map (1.65 MB) it the best available Boulder street map; it's particularly nice because it uses vector graphics— it can be enlarged without loss of detail. Well worth downloading and printing.
Useful websites

---
Visitingboulder.com Excellent site covering Eat & Drink, Play, Explore, and Sleep, authored by a fellow Brown alumnus.

Boulderreport.com Outstanding blog with lively opinions about Boulder restaurants, shopping, and services. Well worth a visit!

Boulder Convention & Visitors Bureau— an excellent site with descriptions and links to Boulder's attractions and events. Their weekly event calendar is particularly valuable.

Citylightsguide.com — is developing a site that features Boulder restaurants, hotels, salons and spas.

The Daily Camera — Excellent source of local news and events. For anything beyond Colorado's borders, go to the New York Times.

Boulder Weekly — Boulder's free weekly alternative newspaper. Mostly reflects Boulder's green/leftie attitude, but not always. Excellent events listings and all the usual stuff you expect in this kind of rag.

Boulder Magazine (getboulder.com) — Quarterly magazine you can find at the entrance to many businesses. Useful articles and event schedules.


Colorado Daily — Daily newspaper geared toward the university community.

KGNU Independent, noncommercial, progressive community radio. 88.5 FM. Highly eclectic programming: music, news, commentary, interviews ranging from political to spiritual philosophy.

Dining and Lodging in Boulder — An excellent guide from Dick Gilbert, our realtor.

Stephen White's picture gallery — The famous (frequent visitor to the New York Times best seller list) mystery writer's snapshots of Boulder (mostly) with excerpts from his novels. Click here for local color.

Boulder Community Network — Detailed community information.

Runner's World— Description of our fair city, of special interest to fitness freaks.

Boulder at its Best — from Sunset Magazine. Also, Boulder's Pearl

University of Colorado Visitor's page

Real estate:

Our realtor, Dick Gilbert, has an a wealth of information on Boulder on his site.

Logan Chierotti of Colorado Home Helper offers access to the MLS (Multiple Listing Service): an easy way to search for Boulder County Real Estate and Boulder homes for sale.
Organizations (of more interest to residents)

---
Boulder Chamber of Commerce — offers some excellent classes on how to develop a business.
Boulder Business by Referral — a new site for busniess referrals. Uses one of my images.
Boulder Digital Arts — a community resource for digital artists. Meetings, classes, networking, etc.

Events and cool things to do

---
What to do in Boulder... from the Convention and Visitor's Bureau is an excellent weekly events listing.

Pearl Street and its bookstores There are nine bookstores between 9th and 18th streets. The cross street is the address divided by 100. From west to east: Trident (940; new/used; strong in art), High Crimes (946; mystery novels), Stage House (1039 second floor; used/antiquarian/art prints; well worth ascending the flight of stairs), Boulder Bookstore (1107; huge and locally-owned), Left Hand (1200; left-wing revolutionary), Lighthouse Metaphysical (1201), Borders (1600), Beat (1713). new/used/records; the spirit of Kerouac lives here even though he never visited Boulder), and Red Letter (1737; used; charmingly disorganized). You'll pass numerous street performers. Also of interest: Bart's (1015; CD's and LP's; new/used; "Without music life would be a mistake"). Of course there are countless clothing stores and boutiques that my gender prevents me from noticing. There's a Barns & Noble next to Whole Foods between 28th and 30th streets— beyond walking distance. Three mega-bookstores (one locally-owned) in a city of 100,000 isn't bad.

Interesting businesses around Pearl Street
Deserving Body Massage

Thai Yoga massage, Deep tissue, Swedish, Hot stone massage, Sports massage, Hydrotherapy, BMT, Reflexology, & Chair bodywork. 2009 13th St., just north of Pearl. (720) 470-7890.

Blink Gallery 1011 Pearl St. Probably the finest original art gallery in Boulder. Excellent collection of artists.
Banjo Billy's Bus Tours A 90 minute history tour of Boulder Colorado from an old school bus tricked out to look like a traveling hillbilly shack. Hear ghost tales, crime stories, and history. Boulder's answer to Boston's Duck tours. (720) 771-0087.

Book talks Check the Boulder Bookstore schedule. Some pretty cool authors visit regularly.

Boulder Chamber Orchestra Several concerts each year in a downtown church.

Boulder International Film Festival Held in February.

Boulder Museum of Contemporary Arts (BMOCA) 13th Street between Arapahoe and Canyon, next to the Tea House. Exhibits a variety of contemporary artists and photographers. Has a small auditorium used by a resident theater company and for lectures.

Boulder Philharmonic Orchestra An outstanding orchestra for a city the size of Boulder. Performs monthly in beautiful Macky Auditorium on the CU campus.


Boulder Public Library — in a dramatic building spanning Boulder Creek, just west of 9th between Arapahoe and Canyon (2 blocks south of Pearl Street). Check their calendar for their outstanding schedule of films, concerts, lectures, and art openings.

Colorado Music Festival A wonderful music festival held in the Chautauqua Auditorium, a hundred year old barn with superb acoustics two miles south of downtown, starting late June.

Colorado Shakespeare Festival Held each summer at the University of Colorado, late June through late August.

CU concerts The University of Colorado's outstanding concert series, including the Artist Series, CU Opera, and the resident Tacacs Quartet— one of the top string quartets in the world. It's not easy to get tickets for the Tacacs.

Da Vinci Capers A Boulder organization that organizes fine arts tours and workshops in Italy— in Amalfi, Tuscany, and sometimes Boulder.

The Dairy Center for the Arts Walnut and 26th Street. A large center featuring art and photography exhibits, dance, music, and drama performances, classes, and more.

Denver Boulderites often forget there's a city nearby. It has a splendid Performing Arts Center. The Denver Art Museum, Museum of Nature and Science and Zoo are well worth a visit. www.artstozoo.org is an excellent source of cultural information. LoDo, a district of restaurants, galleries, boutiques and lofts west of downtown, is undergoing restoration. It reminds us of San Diego's Gaslamp Quarter a few years back. A free bus runs along 16th Street from the train station, through LoDo and downtown, to the Art Museum and State Capitol. Cherry Creek, about three miles southeast of downtown (take Speer Boulevard), is a major shopping area that resembles La Jolla without the ocean (La Jolla wins). The Mizel Center for Arts and Culture (part of the Denver Jewish Community Center) near Cherry Creek has some excellent exhibits and theater. The Tattered Cover Bookstore (LoDo and Cherry Creek) is awsome. The Denver Art Dealers Association has a calendar of art exhibits and openings (yes, DADA does Denver). The RTD B bus runs frequently between Boulder and Denver, especially during rush order.

Open studios See the work of Boulder's amazing arts community. First two weekends of October.

What to do in Boulder Excellent weekly events listing from the Convention and Visitor's Bureau.

Farmer's market Wednesday mornings and Saturdays until 2 PM on 13th street between Arapahoe and Canyon, by the Dushanbe Teahouse. Great for Saturday lunch and for people and produce watching. Mostly organic (the people as well as the produce). Open April-October.

Fiske Planetarium at University of Colorado. Check the calendar for shows, which range from pure science to Pink Floyd.

Boulder Mahlerfest and Bach Festival I love 'em both.

McGuckin Hardware Over 200,000 items. Widget heaven. Where real men shop. Arapahoe Ave. between 26th and 28th, about a mile east of downtown.

Boulder Outdoor Cinema Friday and Saturday nights behind the Boulder Museum of Contemporary Arts, 1750 13th St. between Arapahoe and Canyon, starting May 30. Times vary from 8 to 9 PM.

Moondance Film Festival May 15-18 at Chautauqua Park. Logically, if Robert Redford is behind Sundance, then Moondance in environmentally-obsessed Boulder (pay no attention to those SUVs) must be the work of Robert Greenford.

Rembrandt Yard A visual arts center at the corner of Spruce and 13th Street. (across from the Boulderado) featuring art galleries, working artist studios, and class room space dedicated to a variety of educational programs.

Twenty-Ninth Street About a mile east of downtown, bounded by 28th and 30th streets (logically!), Arapahoe Avenue, and Pearl St. Think of it as Boulder's second downtown with free parking, above and under ground. Unlike the outdated, boring Crossroads Mall it replaced, it has a contemporary outdoorsy "downtown" feel. It got off to a slow start due to its relative isolation (several blocks from housing and offices) and movie theater construction delays, but business has been steadily improving. It contains


Every Memorial Day weekend the world-famous Bolder Boulder 10k race is run between
Boulder and its twin sister city. You guessed it. Bolder.

Hiking/outdoor recreation

---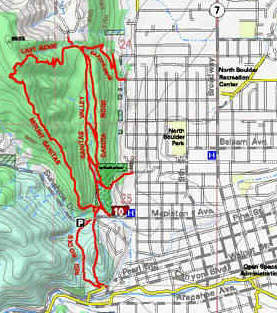 Red Rock and Mt. Sanitas trails

northwest of downtown

.
Webcam views can be handy before setting out on hikes or photographic trips. Mountain weather can be very different from weather here in sheltered Boulder. Colorado Live Web Cam Directory

Open space & mountain parks maps — Links to detailed hiking trail maps and trailhead information. Great for map freaks. Small portions of two of the maps are shown on the right, above and below. The above right portion shows the Red Rock and Mt. Sanitas trails, both a short walk west of downtown. The lower right portion includes the University of Colorado (just south of downtown), Chautauqua Park (very popular in-town trailhead), and NCAR (National Center for Atmospheric Research — another popular trailhead), and the Flatirons— our signature mountains. Unfortunately these are JPEGs of JPEGs, so they're not as clear as I'd like. A clearer version is available for sale as a single map. There's much more on the site.

Clark and Lynda Chapman's hikes near Boulder — Superb descriptions of some fabulous hikes in the nearby mountains. Very detailed page with topo maps; takes a while to load. Click here for hikes closer to their home near Nederland (above Boulder).


ProTrails.com from Dave Schwartz here in Boulder has an excellent collection of hikes near Boulder as well as elsewhere in Colorado, Utah, California, and Florida. Excellent resource; strongly recommended.


Mike's hikes in Rocky Mountain National Park — Good trail descriptions and excellent topo maps.

The Daily Camera has descriptions of over two hundred trails.

Mountain bicycling is very big in Boulder. You can find trail information and maps on TrailCentral.com, Fort-Collins.com and Mountain Bike Colorado.
Favorite Boulder walks

---
Trails from Chautauqua and NCAR

southwest of downtown

.

Mt. Sanitas/Red Rocks (trailhead on Mapleton Ave, west of 4th)— A steep ascent up Mt. Sanitas (north of Mapleton) is rewarded with spectacular views of Boulder and the continental divide. Gentler trails are also available and you can do a loop. The Red Rocks (south of Mapleton) is a short easy hike with a nice view of downtown. You can reach it from downtown via the Boulder Creek trail, using the Canyon Boulevard underpass.

Boulder Creek trail— Ten miles long from the prairie to the mountains. Passes two blocks south of downtown. Any part of this shaded walkway is delightful. From downtown, the stretch from the Dushanbe Teahouse (13th Street) to beyond Eban Fine Park (4th street) is particularly recommended. As good for people watching as for nature. The Canyon Boulevard underpass at the west end of Eban Fine Park provides access to the Red Rocks.

Chautauqua Park (south of Baseline, just west of 9th)— Gateway to the Flatirons. You can hike an hour or all day on of the extensive network of trails (see topo map on the right). A nice trail map is available at the ranger station. The Chautauqua auditorium (venue of the Colorado Music Festival and other excellent events) and Dining Hall are worth checking out.

NCAR (from downtown, go south on Broadway, turn right on Table Mesa Dr. and take it all the way to the end and park near the building, featured in Woody Allen's Sleeper) Trailhead for the Mesa trail (you can go north towards Chautauqua or south towards Eldorado Springs) and for ascending Bear Peak, South Boulder Peak, and Green Mountain.

Eldorado Springs Drive, about five miles south of downtown, west of Broadway (Rte. 93). The South Mesa trailhead on the north side leads to the scenic Homestead, Tohee, Mesa, and Big Bluestem trails— several loop hikes are possible. The Mesa trail connects with the Shadow Canyon trail, which leads to Bear Peak and South Boulder Peak. The Doudy Draw trailhead on the south side of Eldorado Springs Dr. leads to gentler trails.
Getaways

---
Beyond Boulder, there are plenty of fabulous places to visit in Colorado and in neigboring New Mexico, Utah and Wyoming. I've added a section on travel (mostly links) to my Photographic technique page. Here are a few of my favorites.

Ouray and the San Juan Mountains — a spectacular region in Southwestern Colorado, about a 7 hour drive from Boulder. Here is my image of Mount Sneffels— the crown jewel of the region. Here is Roger Clark's magnificent image of Mount Sneffels, taken around June.

Grand Teton National Park in Western Wyoming, a day's drive from Boulder, has some of the most dramatic scenery in the Rocky Mountains. Photographers will appreciate Miles Hecker's outstanding Grand Teton National Park Photo Map.

Want to get away from it all and still be in Boulder? Try Boulder, Utah (elevation 6,200-8,200 feet, population about 150). No traffic lights, no franchises, some of the wildest scenery and most fascinating, eccentric people you could imagine. Located on Utah Highway 12 (a scenic byway) between Bryce Canyon and Capitol Reef National Parks, it was the last town in the US to have its mail delivered by mule train— as late as the 1950's. It's Southwestern canyon country at its best. Nearby scenic areas include the Grand Staircase-Escalante National Monument, Burr Trail (access to several scenic canyons and the amazing Strike Valley Overlook), 11,000 foot Boulder Mountain (with huge aspen forests and spectacular views of the canyon country a mile below), Calf Creek Falls, and much more. If you'd like to explore the back country with pack animals, check out Red Rock & Llamas Tours and Escalante Canyon Outfitters, which was featured on public radio in Episode 243 of This American Life (starting about 5 minutes into the broadcast). The Boulder Mountain Lodge offers impressive accomodations and gourmet food in the Hell's Backbone Grill. I heard a visitor from Salt Lake City rave on the phone about how high the vibes were. The Burr Trail Grill and Trading Post has excellent (though not quite gourmet) breakfasts and lunches and a fine selection of Indian jewelry and crafts. Say "hi" to Trish— read her description of the area. The general store has natural foods— a rarity in southern Utah, where junk food rules.

Colorado Ski Resorts, famously expensive in the winter, offer good vacation value in the summer— great hiking and photography and a number of music festivals. Here are a few fun sites: The Best of Vail (nicely opinionated restaurant reviews, ski and hiking trails) (I'll add more as I find them.)

GORP— Great Outdoor Recreation Pages— An enormous outdoor-oriented travel resource with hundreds of useful articles. Start with overviews of Colorado, Wyoming, Utah, New Mexico, and Arizona.


Americanhiker.com has an excellent collection of hikes near Boulder as well as elsewhere in Colorado and the West.

DesertUSA.com is a great resource for Southwestern USA travel information (with some excellent maps). The American Southwest is another great resource for national parks and natural landscapes.
Recommended lodging

---
Lodging in Boulder can be rather expensive. That's the price of living in a beautiful, fashionable and prosperous community. Budget accomodations can be found at the fringes of town. It gets more expensive closer to Boulder's vibrant downtown. Boulderlodging.com and the Convention and Visitor's Bureau have fairly comprehensive lists. You can find more on Clark Chapman's or Dick Gilbert's lists.

Foot of the Mountain Motel A charming rustic motel at the foot of Boulder Canyon, just 12 minutes walk from downtown Boulder. Very reasonable rates for Boulder. Doesn't have air conditioning; may be an issue during occasional heat waves June through September. 200 West Arapahoe Avenue, Boulder, Colorado 80302 303-442-5688, 303-442-5719 (fax). Location of Stephen White's recent mystery novel, The Program. Could it be the next Bates motel?




The Flatirons: Boulder's signature mountains. Near the Chautauqua Park trailhead.

Recent images taken near Boulder can be found on Images 2001.
Hotel Boulderado Boulder's classic downtown hotel. 13th Street between Spruce and Pine. Teddy Roosevelt stayed here. 2115 13th Street (at Spruce; 1 block north of Pearl) • Boulder, Colorado 80302 • 800.433.4344 • 303.442.4344
St. Julien Hotel & Spa 900 Walnut Street (one block south of Pearl) 720-406-9696. Boulder's newest downtown luxury hotel.
Boulder University Inn 1632 Broadway, just south of Arapahoe. 303-417-1700. The only budget motel close to both downtown and the university.
The Bradley Inn 2040 16th Street (at Spruce), Boulder, Colorado 80302 (a little east of the Pearl Street Mall, close to some of our favorite restaurants: Foolish Craig's and Moongatge). A large, elegant B&B with jacuzzis in many rooms. $145-195.
Briar Rose Bed & Breakfast 2151 Arapahoe Ave., in a charming old house about 1/2 mile east of downtown, facing Naropa University. One of the innkeepers is a Zen monk. The breakfast is organic, as you would expect. Very Boulder. $129-169. 303.442.3007 • Toll-free: 888.786.8440.
Boulder Broker Inn 555 30th St., one block south of Baseline Rd. Nice accomodations just south of the university. Main stop for the Boulder SuperShuttle. The restaurant is known for large multi-course meals that include dessert and a complimentary bottomless bowl of peel-and-eat shrimp. A wee bit outside our diet.
Boulder Marriott 2660 Canyon Blvd. 303-440-8877 • Toll-Free: 1-888-238-2178 About a mile east of downtown, near McGuckin Hardware. Easy to miss because it's off the street, behind some businesses.
Millenium Harvest House 1345 28th St. (about a mile east of downtown).. Large hotel with pools, conference rooms and.meeting spaces. Considerably less expensive than comparable downtown hotels.
Quality Inn & Suites - Boulder Creek 2020 Arapahoe Avenue (about a kilometer east of downtown, next to Naropa). 888.449.7550 outside Colorado; 303.449.7550. Pleasant, moderately-priced lodgings not far from the university.
The Boulder Inn (Best Western) 770 28th Street, near the university. 303-449-3800. Moderate rates, includes breakfast.
Lodging recommendations from Clark Chapman, whose hiking page is listed below: the elegant old downtown Boulderado Hotel (on the pedestrian mall, 303-442-4344), the Alps Boulder Canyon Inn (303-444-5445, historic luxury B&B featuring afternoon tea and evening desserts, 12 rooms $122 to $188, in Boulder Canyon), Boulder Mountain Lodge (rustic, by the creek in Fourmile Canyon, 303-444-0882), the Magpie Inn (downtown B&B, moderately expensive, 303-449-6528), the upscale Regal Harvest House hotel (in the shopping district east of downtown, tennis courts, pool, 303-443-3850), the Golden Buff (303-442-7450, standard in-town Best Western motel), Days Inn (cheaper, 303-499-4422).
.
View image galleries

.
.
The image on the right was taken in Chautauqua Park, about 1/2 mile from the trailhead, well inside the city limits.
.
Favorite restaurants

---
Boulder has a wide variety of excellent restaurants. Most are vegetarian-friendly. We may never get around to trying them all. There are lots of omissions; I've concentrated on central Boulder and on north Boulder (our neighborhood, which is much more convenient on Friday and Saturday nights when downtown parking is difficult and restaurants can be mobbed). We still miss north county San Diego's superb Mexican restaurants. These selections reflect our taste— we try to avoid rich foods and rarely eat red meat; others may have different tastes. Chaçun à son gout. Prices: $ = inexpensive; $$ = moderate; $$$ = expensive; $$$$ = Flagstaff House, reputed to be the reason the emperor of Japan visited Colorado. We may try it again the next time the stock market tricks us into thinking we're wealthy.

Like other places, Boulder restaurants come and go. We were disappointed at the loss of Cheescake Factory and Ted's (both chains, albeit good ones). Victims of Pearl Street's high rents. We mention noise because so many restaurants these days are too noisy for a pleasant conversation (a pet peeve).

Central

The Mediterranean ("The Med") Walnut Street at 10th (one block south of Pearl St.). Inspired eclectic food from the Mediterranean: Spanish (tapas and paella), Italian (pasta and gourmet pizzas), Greek, Provinçal and some very creative blends. Their spaghettini bucaniera (spicy seafood pasta) is to die for, not from: flavorful but not rich. Good value; casual; very popular; noisy; long waits during peak hours. The new section (added in 2010) is a little quieter. $$-$$$.

Brasserie Ten Ten 1011 Walnut Street (across from the Med; same owners). Paris in Boulder. Excellent food and service. Upscale ambience and clientele. Popular, especially during peak hours. $$$. Reviews: Getboulder | Daily Camera

Illegal Pete's Pearl Street Mall (east end) at 15th. Best fast food in town. Superb burritos. Not quite authentic Mexican, but good. $.

The Dushanbe Teahouse 13th Street between Canyon and Arapahoe (three blocks south of Pearl). A classic from the day it was built by craftsmen from Tadjikstan. Eclectic, spicy, international food. Not as crowded as Pearl Street Restaurants. Service can be somewhat slow. Hangout of mystery writer Stephen White. $$.

The Hungry Toad 2453 N. Broadway at North (1/2 mile north of Pearl). Neighborhood British pub with decent food. $-$$.

Riffs 1115 Pearl Street (on the mall) (303) 440-6699 Very fine food: they have a real chef. Smallish portions designed to be shared; good value. $$$

The Rio Grande 11th Street at Walnut (one block south of Pearl). Decent Mexican food (improved since we arrived here) and reputedly strong margaritas (limit of three per customer). Popular. (The singles bar is a madhouse.) $$.

Sforno Trattoria Romana 1308 Pearl St. 303-449-1787. Excellent Italian dining with pleasant atmosphere in the heart of the Pearl Street Mall. $$-$$$

Foolish Craig's Pearl Street between 16th and 17th. Crepes, omelettes, sandwiches, salads, and very respectible dinners in an atmosphere reminiscent of 1970's Santa Cruz (a veritable time warp). Excellent value; food quality usually exceeds expectations. $-$$. Review: Getboulder

Jax Fish House Pearl Street between 9th and 10th. Excellent seafood in a trendy, crowded, offensively noisy setting. The food is almost good enough to offset the noise. Earplugs recommended. Long waits during peak hours; no reservations. $$-$$$.

Zoe Ma Ma 2010 10th Street, just off Pearl. 303.545.MAMA Inexpensive Chinese fast food of gourmet quality, featuring soups & light dishes. Very casual. $ Same owner as Chimera, next door on 10th Street, which bills itself as "Pacific Rim Cuisine" Many upscale ramen noodle-based dishes. Noisy. $$-$$$.


Sherpa's 825 Walnut St., next to Di Napoli. Excellent Indian/Nepalese restaurant. Pleasant ambience in a charming Victorian house. They even have some Tibetan entrées. (Boulderites are connoisseurs of Tibetan spirituality, but prefer cuisine from milder, more agriculture-friendly climes.) Good venue for showing off Boulder's charms. $$-$$$. 303-440-7151.

The Kitchen 1039 Pearl Street. Fine dining, casual ambience, but not quite our favorite. Founded by Kimball Musk, brother of Elon Musk. Reservations recommended. $$$. The Kitchen Next Door features simpler fare-- nice soups, sandwiches, etc., served quickly. Noisy. $-$$.

Brewpubs . BJ's Moved to 1690 28th St (near Walnut; formerly on Pearl Street Mall) (See photo at the top of this page and Jook Leung's amazing 360 degree VR image; that's Jeremiah Red I'm drinking). Excellent salads, sandwiches, pizzas and, of course, brews. Not quite gourmet, but everything is fresh and well-prepared. $-$$. Very popular. The Walnut Brewery, Walnut near 11th has good food and excellent brews. Noisy. $$.

Coffeehouses (Too many for a complete list): Pearl Street from West to East: Trident Booksellers and Cafe (10th): adjacent to new/used bookstore. Intellectuals of all ages. The Cup (16th). Laughing Goat (17th) has music or poetry most evenings. Several have free wireless Internet hot spots. Of course there's that ubiquitous Seattle-based chain you can find everywhere.

Neighborhood Off the beaten path but worth the treck, especially on Friday and Saturday nights when downtown is mobbed. See also Twenty-Ninth Street.

Agave Mexican Bistro

2845 28th Street

. Very nice upscale Mexican cuisine. Usuanly not too crowded. $$-$$$.

Zolo Grill 2525 Arapahoe Ave., next to McGuckin's— 2/3 mile east of downtown, near Naropa. Excellent eclectic southwestern cuisine in a lively but noisy ambience. You can make a meal of their bowl of tortilla soup. Crowded and noisy during peak hours. $-$$$.

Three Margaritas 3390 28th St. at Iris (SE corner) 303.998.1234 Colorado-based chain. Satisfying inexpensive Mexican food. Fast, professional service. Our go-to place for Mexican comfort food. Usually quiet. $-$$.


Tandoori Grill Broadway at Table Mesa, South Boulder, about three miles south of downtown. Our favorite Indian restaurant. Superb samosas and much more. $$. We also like the Himalayas on 14th Street just north of Pearl (downstairs next to the Cheesecake factory), which has a dinner buffet. $$. Boulder's Indian restaurants have excellent lunch buffets for around $7.

Boulder Pho 2855 28th Street between Mapleton and Valmont. 303-44900350. Excellent pho, salads, and Vietnamese specialties. Quiet. $-$$

Buddha Cafe 2719 Iris Ave., NW corner of 28th Street, North Boulder. 720-565-0506 Good neighborhood Thai food. Quiet. $$

Chez Thuy 2655 28th Street, between Mapleton and Valmont. Generally excellent Vietnamese food, though I find their lemon grass sauce a bit heavy. Almost everything else is wonderful. Salad-style noodle bowls are wonderful. $-$$$

China Gourmet Broadway at Quince, North Boulder, about two miles north of downtown. Hidden behind Lucky's Market. Superb neighborhood restaurant— not a tourist in sight. Basic ambience but consistently excellent cuisine. $-$$.

DaGabi Cucina 3970 N. Broadway at Quince, next to China Gourmet. 303-786-9004. We haven't tried it since its transition from Italian to Spanish/Tapas. Pleasant atmosphere. $$-$$$

Bacco Trattoria & Mozzarella Bar 1200 Yarmouth Ave., corner Broadway. 303-442-3899. The idea of a "mozzarella bar" seems a bit silly to me, but the Italian food is usually excellent, the ambience is pleasant, though sometimes noisy. The pasta is definitely al dente. $$-$$$

Kathmandu 28th at Walnut. (Website is for Nederland location.) Excellent Indian/Nepalese cuisine. Quiet. Not overly crowded. Buffet Friday and Saturday nights. $-$$.

Little Tibet 4479 N Broadway, north Boulder. 720-459-8336. Excellent Tibetan and Indian cuisine. In the funkiest strip mall in Boulder. Plain decor (a Tibetan prayer wheel and portrait of the Dalai Lama-- that's all). Wonderful food. Especially nice Tandoori Chicken. One of our neighborhood go-to places. Quiet. $-$$

My Ramen and Izakaya 3280 28th St. (on the east side, between Glenwood and Iris: hard to see from 28th St.) 303-454-2222. Ramen has grown up! No longer just for graduate students. Some excellent dishes. Izakaya is Japanese for "tapas". We particularly like the eggplant buns. Not noisy. $

Restaurant-related websites
Daily Camera restaurant reviews Recent reviews of restaurants in the region (with 25 miles of Boulder).
Boulder Weekly's Best of Boulder: Food Valuable, though the votes are occasionally rigged. In 2000 the noisy Mountain Sun Brewery, which has benches— few chairs with backs— was voted "most Romantic." Apparently they had a "one vote one beer" policy. I agree with about 80% of the calls. Pretty good considering... The Daily Camera also had a Best Eats page.
Culinary Colorado

Colorado-oriented, but not Colorado-exclusive, blog about restaurants, food and wine events, occasional menus and recipes and food-related news.


First Bite Boulder An annual event (November) where many of Boulder's upscale restaurants offer a prix fixe dinner at a special price. Includes a restaurant list with links.
Dining Out (Click on Boulder neighborhood.) Large list of area restaurants with good descriptions (though definitely not critical reviews).

Getting to Boulder

---
Denver International Airport filght status updated every 10 minutes.

By car from Denver International Airport


From the airport, take Pena Boulevard towards Denver. Go west on I-70. Take a right on I-270 (not very clear on the map). Continue straight past I-25, where I-270 becomes US 36. On entering Boulder, US 36 turns north and becomes 28th Street, the main commercial thoroughfare. Pearl Street crosses 28th street about a mile to the north. The Pearl Street pedestrian mall is between 11th and 15th streets, about a mile west of 28th St.

Take the same route to return to the airport. Watch the signs carefully around I-25, I-76, and I-270. Continue straight to I-270, then I-70 (avoiding the I-225 exit), then Pena Blvd. to the airport.

The E-470 toll road connects Pena Blvd. with 96th Street, just north of US 36. It's not worth the bother most of the time. (It's only a few miles shorter and has three stops with $6.00 tolls.) But it can save a lot of time during rush hour, especially when heading to the airport..

By bus from the airport

The RTD AB bus leaves approximately twenty minutes past each hour (more have been added recently (2019)). For a detailed schedule, check the RTD website, and follow the links to the AB bus (W-Bound means Airport to Boulder; why can't they just SAY it?). SkyRide buses leave from the Denver Airport Station, down a long escalator from level 5 next to the Westin Hotel at the south end of the terminal. Fare to Boulder is $9 ($4.50 with senior discount; such a deal), and it takes about 1 hour 12 minutes to get to the downtown bus terminal at 14th and Walnut streets, walking distance to downtown hotels and B&B's.

I prefer the bus, especially for long trips, when parking can get expensive.

By limo from the airport

I've received some recommendations for

Green Ride Boulder

, but I haven't tried it.



The Boulder SuperShuttle, 303-227-0000, leaves at least every hour at about 10 past the hour between 7:10AM and 11:10PM from gate 504, Island 4, and takes under an hour to get to Boulder Broker Inn, on the south side of town (near 30th and Baseline). Cost is $27. They can take you to your destination for $33. The shuttle desk is on the west side of level 5 (the main level). You can usually make arrangements when you arrive. Returning to the airport, the SuperShuttle leaves the Broker Inn every hour on the hour between 4AM and 10PM. You can arrange to be picked up from your hotel.

2013 update: SuperShuttle service is not as good as it used to be: shuttles often stop at residences between Boulder and the airport. The bus is now faster.



Panoramic view from the Mesa trail, south of Boulder, March 3, 2001 (Flatirons in center)

Recent images taken near Boulder can be found on Images 2001.
Images and text copyright © 2000-2013 by Norman Koren. Norman Koren lives in Boulder, Colorado, where he worked in developing magnetic recording technology for high capacity data storage systems until 2001. Since 2003 most of his time has been devoted to the development of

Imatest

. He has been involved with photography since 1964.