Norman Koren autobiography
Avrum (AKA Harry) and Baila Nathanson were my maternal grandparents. Both passed away when I was around ten, so I never got to know them well. I'm thankful to Dan Levin (Baila's nephew) for sharing this story. My parents never said a word about it; they didn't appreciate the value of personal history or a good story. Perhaps one day Dan will tell us more about his extraordinary life-- how he left Rochester to make his fortune in the Golden State. (He was a co-founder of Budget Rent-a-Car, among other things.) --NLK
My uncle Avrum Nathanson was the proprietor of Rochester's finest Jewish restaurant; in fact it was Rochester's only Kosher restaurant. On the first floor was Nate's Delicatessen with its menu on a blackboard written in Yiddish. Two large ceiling fans festooned with sticky flypaper operated occasionally. Tables were covered with oilcloth, decorated by a cut glass vase containing wilted artificial flowers, roses of course. Not daisies, or, God forbid, Lilies of the Valley that were reserved for Gentiles. The tables, always round to accommodate up to ten people, were surrounded with an odd assortment of chairs from defunct businesses, modern folding chairs, high chairs for the children, and chairs for those without children.

Children ate for free, naturally. After all, how much can a little baby eat? However, the customers insisted that a boy was still a child until he reached the age of thirteen and was Bar Mitzvahed. And boy-oh-boy, could those children eat. Since the Bas Mitzvah for girls was unknown-- it was invented in 1922 by Rabbis hoping to augment their income-- the criteria was different for girls. Young girls could eat free until their breasts developed. All this eventually lead to the restaurant's demise.

The second floor was the "Great Hall," where all the secular events took place. A large newspaper rack featured Forward, the Socialist paper, and Freiheit, the Communist paper, stacked side-by-side even though the readers were hated enemies who barely spoke to each other. Here in nathanson Hall neutrality was the password. Food transcended politics. "Eaters of the world unite."

The Workman's Circle held their "annual" fund raiser events four times a year. They always needed money. (Can you think of a single nonprofit institution, apart from the Getty Museum, that doesn't? --NLK) The Farband, with their Zionist auxiliary, the Pioneer Women (Jewish "nuns;" not the fancy-schmancy Hadassa), held their monthly meetings, with speakers talking and dreaming about the return to Israel, which seemed like an impossible dream (God forbid it should turn into a reality and they would have to leave this land or opportunity).

The Territorialists were actively trying to set up Jewish enclaves in BiroBijan Russia, Madigascar Africa, and Petaluma, California, where they did indeed open large chicken farms. The Yiddishists argued with the Hebrewists on a daily basis. There was a group, dressed in the clothing of the seventeenth century Pale in Poland as if it were biblical, who met behind locked doors to decipher the secret meanings of letters and numbers.

You would think that with all this food for thought the restaurant would be the Acropolis of Rochester. Not so. The food soon reduced all intellectual pursuit to an appetite for the delights of the Old Country. Peasant food was elevated to a cuisine. Politics could wait for after dinner.

But for us, the relatives of Avrum and Baila, the highlight came with the banquets and the prospect of excess food for our own tables. In exchange for our help in serving, cleaning up, and washing the dishes for the "huddled masses longing to be fed," we were rewarded with a broiler filled with baked chicken, noodles, carrots, and potatoes, all swimming in gravy. Cholesterol-schomlesterol: who knew, who cared? Life was to be lived, not sustained.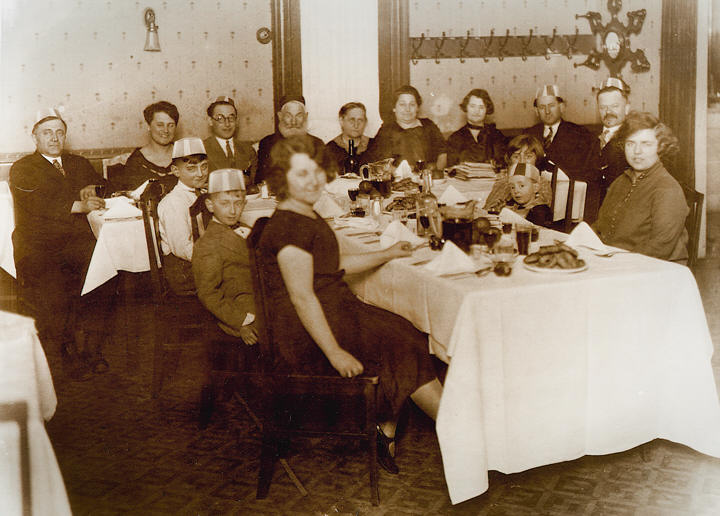 1. Morris Levin (Dan's father).
2. Rose Levin (Dan's mother; Baila's sister; an excellent artist).
3.

Alexander

(Shender)

Linger


4. Naftali Linger, my great-grandfather.
5. My great grandmother, Anna (Channa).
6. Baila Nathanson, my grandmother.
7. Sarah Shrier, my great-aunt (Baila's sister)
8. David Shrier (The Schrier family lived in Syracuse.)
9. Avrum (Harry) Nathanson, my grandfather.
(Harris Natanson on naturalization document)
10. Dan Levin
11. Julius Shrier
12. Jane (Jennie) Nathanson, my mother.
13. Lea Levin
14. Sidney Shrier
15. Tillie Nathanson, my aunt.

Sometime around 1928...

Thanks to Beverley Wiseman and Lori Linger for updates/corrections.
But I digress. I'm here to tell you about Nathanson's Noodles.
Success was instantaneous. Not for the decor, but for the noodles. Noodles in the soup, noodles in the kugel, noodles in the stuffing. Noodles, noodles, everybody loves noodles. The A&P and Wegman's didn't need noodles; they had spaghetti. Only the small Mom and Pop Jewish stores wanted noodles-- thick or thin, egg or plain.
"Oi, Avrum, why can't we buy noodles from Velvil the Cripple's store?" It never occurred to them that it must have been the first self-service store in America. After all, you couldn't expect poor Velvil the Cripple to run around serving people. For shame!
Find a need and fill it. Soon the ballroom was converted into a factory. Tables were set up, flour covered the brown wrapping paper, cellophane bags were purchased, and a picture of our rotund Aunt Baila was printed in red with the motto, "USE YOUR NOODLE - EAT NOODLES - IT'S GOOD FOR YOU." (What I wouldn't give for one of those packages... --NLK) Wire crates were employed to deliver the wide, the short, the thin, and the fat, all golden lightly. Success was assured, with the exception that we would only get orders from the small Ma and Pa store in the poorer Jewish neighborhoods. Two of each size at a time.
"Look, Avrum, you know there is a depression going on." (This depression started earlier and lasted longer than the famous one of the 1930s). "I'll pay when I sell them."
Uncle Avrum made the rounds and found the same story.
"Sorry Avrum. What can I tell you? You know I have a large family, and they all loved your noodles. They didn't have money, but at least they had an appetite. What could I do?"
My uncle Nathanson was always a good Socialist, and all he could say was, "From each according to their means; to each according to their needs."
Soon he was out of business. "I better leave the noodle business to Mainschewitz. I'm sure he's a capitalist."